By Sarah Kovatch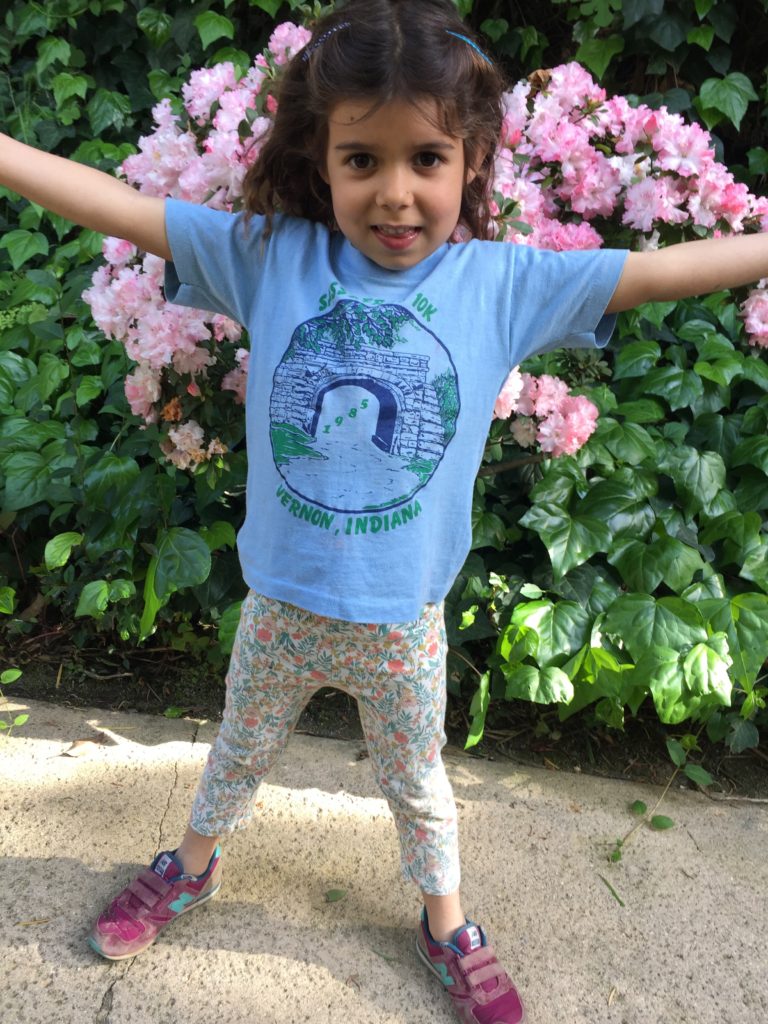 On the last day of kindergarten, Anna brings home 2 paper bags brimming with her completed work.
"Look at all my work!" she cries, at the school gate. But we are rushing off to Angus's allergy shots. "Later, Banana," I say, using her family nickname. "This weekend."
The weekend arrives and we are on our way out the door to a birthday party. Purse in hand, I stand above Anna, "Get your shoes on."
She plucks a worksheet out of the untouched brown bag, still sitting near the front door.
"Look!" she insists. Her home-voice is different than her school voice. At school, she speaks demurely. At home, her high, lisping voice sounds like a loud horn. "Look, mama!"
"Wow, great stuff!" I say, holding up a Letter G worksheet. Her letters are big, openhearted, and cheerful. Already her handwriting has its own personality like her bouncy curls and round cheeks.
"More! Lots more," trumpets the horn. Still barefoot, she hands me another worksheet. She is proud, a delicate emotion. Once she told me, it's embarrassing to be complimented. And so, sincerity is key, which is impossible when hurrying.
"You labeled the parts of a spider, just like a scientist," I say. Then: "Shoes! On!"
"Read the whole thing," she demands, dangling her sandals in one hand while rooting through the bag.
"Banana," I say, too-sweetly. "We'll sit down with this later. Can you please get your shoes on?"
She senses my careful tone and knows she owns me.
"I wrote a book," she says, delivering to my hands a stapled manuscript.
"Anna and the Tiger!" I say, gulping the rush in my voice.
"Read, About the Author, at the end," she says as though recommending a new writer to check out.
Anna is so tiny, no one suspects she's 6. Her sundress—my favorite of her kindergarten era, a pink halter-neck with a green ribbon—says 3T on the tag. But despite her 3T size, she can rap the Hamilton soundtrack and she asks me surprisingly deep questions, like, "What were your friends like in college?" I truly enjoy her company.
"Read it," she insists.
"I want to read your book. I want to write a book," I say absently. "But we have to go."
Suddenly, Angus stomps through. "Are we late?"
"It started 20 minutes ago, but no one will mind," I say, even though I know what he means. He hates arriving to a crowd.
"I want to be the first ones there," he reminds me for the third time that morning.
Angus is my clock to move fast. His alarm says, Go! Now! I've been chasing him since he could scoot across the floor. At 2 he would bolt in a parking lot. Now, at 8, he does everything high-speed and wants to be prompt.
Anna is my other clock. Her alarm says, Slow down, mama. She takes an hour to eat dinner. She stops to smell every flower and pet every passing dog. Her idea of a perfect day is to never leave the house.
I shove Anna's smooth brown feet into her sandals vowing that she'll do it herself next time when we're not rushing.
Meeting neither of their demands makes me tense and scattered, and as I fasten her car-seat, I gasp, pinching my finger in the harness. I've buckled car-seats for 8 years now, and sometimes in these moments, I feel like I can completely lose it.
"Let's go!" shouts big brother.
"Where are we even going?" wails little sister as I start the car—always the last to know.
It's the first hot day in a stretch of foggy May-Grey, June-Gloom weeks. Angus finds his group and I sit down on the patio beside a mom-friend I haven't seen in a while.
Anna automatically backs into my lap. She wants to be this close though it's 90 in the sun.
More than Angus, she needs my body. She is still an extension of my body, always leaning against me. When we're walking she reflexively reaches for my hand to hold, even when she's upset with me.
There are times when I love this so much I could burst. I gobble her cheeks and nose. Juicy kisses and neck-nuzzles delight Anna. It still comforts her to be picked up when she cries, and since she weighs nothing, I still do. I indulge in this delicious cuddly part of having a small child. Her smallness is deceptive and belies my true life-stage: a mother with school-aged kids, not a baby.
But there are times when I choke on it. There is a reason babyhood doesn't last forever. It's unsustainable. There are times I get sharp.
Don't hang on my arm!
 Ouch, my foot!
 You're old enough to walk!
Since we have finally made it to the birthday party, I want her to participate. I bounce my knees and casually say, "go play," but she leans back.
At parties, she suctions on to me—and in the past month or so, we've attended many. "Go play," I repeat, "Your friends are in the bouncy-house."
"Fine," she says, skipping off.
My skin cools and I sigh, reaping the little break.
"She's so sweet and easy going," comments my friend.
It's true. Anna goes with the flow. If Angus wants to build an army fort, she helps, even though she'd rather play hospital with stuffed animals. If Angus wants to trade dessert plates, she hands hers over. If I need to drag her on an errand, she's along for the ride.
She has a breaking point though.
Later that weekend, Peter and I invite friends for dinner. The house is upside-down. I move the grocery bags of school work to our bedroom in an attempt to tidy. I shoo the kids away while I make guacamole. Then I shoo the kids away to play while the adults chat.
The company leaves, and I fall asleep a little drunk on rosé. But before drifting off, my eye catches the bags of Anna's school work. Anna and the Tiger peeks out.
The brown bags sit there for days and days. Life speeds on. Even Anna forgets them.
These days, I have a demanding pull in my body to be ambitious. It is similar to the tug I first glimpsed at 26 of wanting a baby. Now, my biological clock tolls for me to make something of myself, to get my hands dirty with my life purpose.
And so, I use their day-camp hours to study for my evening class or to write. I feel giddy and light balancing something unrelated to children. I sleep less, eat less, and feel myself expanding and rearranging to fit it all in. I also feel my patience crack in new places. When they are home from camp, I shoo them out of the kitchen to tackle my new afterthought: dinner.
One sunny afternoon, we meet my neighbor, Cristen and her kids for a swim. While the kids splash, we chat on patio chairs and I feel cheerful and lifted from the adult company in the afternoon.
"Watch, mama!" Anna  calls from the deep-end. "I can swim all the way around the pool!"
I lean forward, watching her kick. Seeing my children swim is a simple pleasure that always fills me with pride and gratitude. They are strong, they are healthy, they have a skill. My chest swells as I suddenly think of a line from Anna's Hamilton soundtrack: Look around, look around, at how lucky we are to be alive right now.
"You're not watching!" she yells from the water. "Watch me!"
Sometimes as I drift to sleep at night, I hear watch, watch, watch! echoing in my head.
"I'll get closer," I say agreeably, stepping towards the pool's edge.
She swims a few feet, then bobs up again. "You're not watching!"
"My eyes are only on you!" I insist, laughing—a nervous tic. I am watching now, but I haven't been for a month.
"SWIM WITH ME," sounds Anna's horn.
"I'm not wearing my bathing suit." I say, indicating my shorts. "Next time." As I speak the words, I feel the match strike.
"YOU NEVER SWIM WITH ME." She bursts into tears. "YOU WEREN'T WATCHING."
I lift her out of the pool screaming and wailing.
Cristen waves me home. "Angus can stay," she says, then mouths, "I've never seen her like this."
"I ONLY WANT ME AND YOU," Anna cries as we walk home. "NOBODY ELSE!"
I carry her straight to our bathroom and run a bath. I peel off her bathing suit and try embracing her tiny brown body.
"DON'T TOUCH ME!" she shrieks. She is stiff and her curls stick to the sides of her head. I realize just how muscley she is. Where is her toddler tummy?
I kneel down before her and speak softly but certainly, articulating each letter. "Banana, it's time to listen. I will fill the tub. The water will feel good. I will read Elmer and The Dragon." I take a deep breath and peer into her eyes. "Blink once if you can do that."
She blinks tearfully. She lets her body be placed in the tub. She lets her shoulders be soaped. She leans back in the water and her hair floats about her head. Her eyes are bloodshot and spent, but she claims her time with me, listening alertly to her favorite book.
We finish Elmer and the Dragon and I dress her in pajamas. Angus wanders back home. We sit on the couch with the two paper bags of Anna's work.
We behold 27 drawings of rainbows and curly-haired girls. We read Anna and the Tiger. We read her penguin paragraphs. We page through her science journal of ball and ramp drawings. She wrote so much this year. We turn every page of a "Math Expressions" workbook and my eyes feel heavy.
We empty the first bag and I know it's close to dinner. I ignore the clock, grabbing the second bag. But Anna pops off the couch suddenly interested in Magna-tiles. Their basket of Magna-tiles has lived on this rug since Angus was a toddler and they still reach for it daily. Always by the patio sliding door. Always with sunlight glowing though the geometric plastic tiles. A pretty picture. Snap. I take one in my mind.
"Can we look at the rest of your work?" I ask, resting my head on the couch arm. I have soothed and watched and now I am yawning.
"After I play," she says, organizing her stack of tiles.
"Sure, sure," I say sinking into the couch, relieved that later comes from her this time. I have temporarily adjusted the balance. No one else will do it for me, and one day, no one else will do it for them.
There's a reason I never use this couch in daylight. It's too hard to stand back up. I lean back a second longer to observe them. Snap. Another mental photo: their serious, focused eyes while building towers.
Our dog barks; time to feed her. I stretch and walk into the kitchen, gazing out the window at the humming birds buzzing about their feeder. It's 40-minutes past our normal dinner hour, which is longer in child-minutes. And as every mother knows, they're ticking time-bombs when they're hungry.