by Sarah Kovatch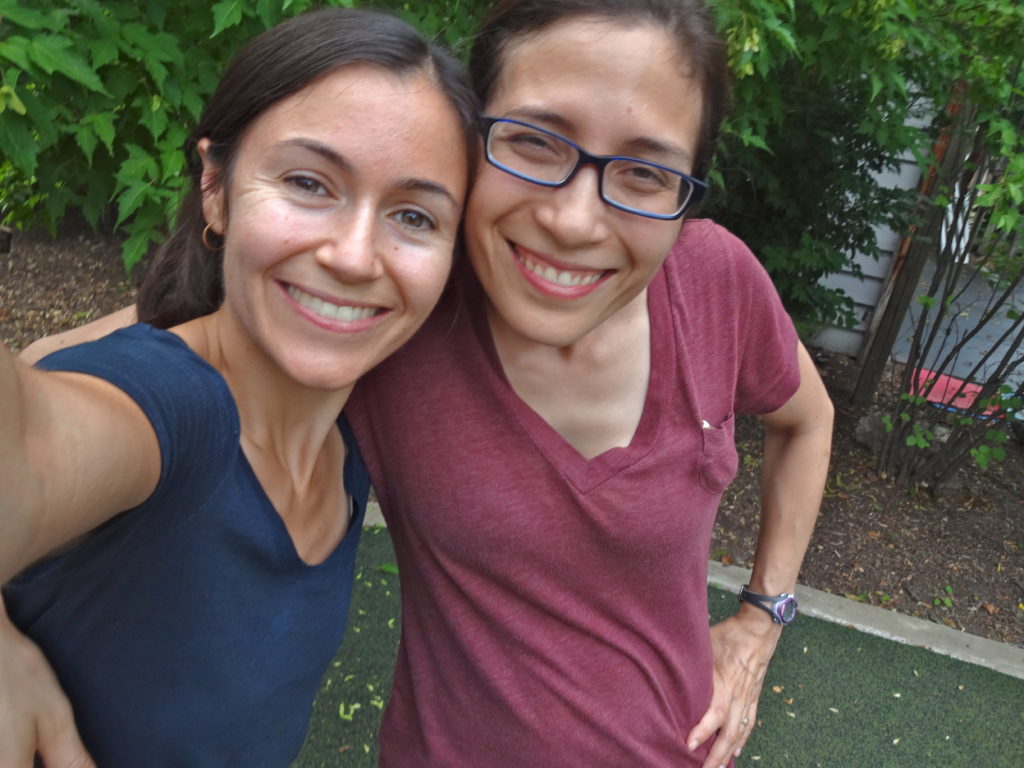 I'm sitting at my desk with a stack of bills and wearing my serious, bill-paying-face, when my phone chimes with a text from Elisa, one of my oldest, dearest friends who knows me like a sister (even our looks are sisterly). Elisa and I were side-by-side through middle school, high school, and college, but we have lived our grown-up lives in different parts of the country. She's a doctor now and recently closed on a new house.
I look away from my online banking, happy to be distracted, and click on her text. It reads: The moving crew. HOT.
The way she writes it gets me and I giggle out loud. I text back three dancing-lady emojis and crack up more.
It is such a familiar flow between us, even 2,000 miles away. I feel my face warm from laughing and from anticipating more laughing. We have been giggling about the same stuff since we were 13.
As teenagers, we'd chat with each other on a school night, me on my wooden twin-bed with the cradle of our family's rotary phone on my lap. We were psychotherapists about boys and crushes. We analyzed our morphing bodies: our periods, our boobs, the weirdness of our feet. We got hours of material re-living the time Elisa's parents had her paged over the loudspeaker of a department store by her family nickname. Basically, we talked about what it felt like to be our age. Who else could understand? When you're 14, even 15-year-olds think you are an infant. Nothing was taboo, we found ourselves hilarious, and it was cathartic.
In many ways, it is still the same conversation, the same cathartic balm, decades later. But for some reason, it is even funnier now that we are at the end of our 30s, married with children.
A lingering giggle. Then a sigh.
A bittersweet pang catches in my throat as I return to the mortgage bill. "Funnier" isn't really the word though. No, now when we talk about our men, our kids, our bodies, our late-30s strife it's also about time gone by. It's also about the stolen moment during a life-stage that is consumed with caregiving and career-building. Now it's this grateful, gulping, gripping-onto-life laugh with inexplicable tears springing from beneath the surface. The hot moving crew is irrelevant; the 9th grade crush was irrelevant. It's just that we've been in womanhood together a long time.
Now we have grown into the women we only vaguely imagined far, far into the future. We are mothers and wives.
Every year we turn a new age, Elisa says, "this time over." On our 15th birthdays it was: "this time over we'll be 30." When we turned 20 (in what felt like a million years later), it was: "this time over we'll be 40." She's always been a numbers gal.
We never truly imagined being almost 40 though.
We might have noticed a child with his mom at the mall and thought, Cute, maybe I'll have one of those someday. But we never imagined the mother: her stack of bills, her career, her partner, her to-do list, her compromises, her softening body, her wise and complicated heart.
We never imagined little white hairs sprouting up at the crown of our scalp. We never imagined googling "peri-menopause." We never imagined the ever-so-slight thinning of skin above our knees. We never imagined career reinvention or debt. We never imagined our parents aging. And, as much as we gossiped about boys we never really imagined married life.
My phone chimes again with another message from Elisa. It's like she intuited the catch in my throat from across the country. Her next text is a photo of her pigtailed daughters. It is surreal to see shades of Elisa in her daughters' eyes. Hand to my heart; a reflex. I text back, I just LOVE their faces. And I do. Family resemblances have always moved me.
I realize suddenly—with the satisfaction an explorer must feel in the woods—that all of this, the texts, the photographs, the laughter…it is all a porthole to my youth and my memories. Sometimes I visit a split-second. Sometimes I dive into reminiscing. A simple pleasure of aging is the knowing that you hold all of your earlier chapters, earlier selves within. We were girls once. Now we have girls—born the same year no less—giggling, giggling, girls.